Sports Betting In New York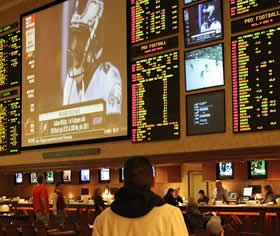 The scope around sports betting in New York has gone through some recent changes in the last half-decade. It used to be that all forms of sports betting were outlawed due to a federal law known as PASPA. However, this law has been repealed, leaving New York able to expand their industry, which was unofficially made legal in 2013. All of these changes can have gamblers unsure of what their options are or what regulations they need to look out for. But fear not, that is where we come in.
On this page, you will find all of the sports betting laws in New York from land-based to online and even with the offshore accounts. These international sportsbooks can provide even more betting options to you and with that, we even reviewed the four most accepting, legal, and safe sportsbooks for you to use. Included on this page, you will find information about the horse racing laws and other gambling establishments as well. Not that you need help remembering the wide array of teams in New York, but we also look into which teams are safe to bet on as well as where to find the best betting odds.
Does New York Have Legal Land-Based Sports Betting?
Land-based sports betting was approved by a voter referendum in 2013 well before PASPA was overturned. Now that the federal law is out of the state's way, land-based sports betting is found in the tribal casinos as well as the upstate commercial casinos in NY. The state lawmakers discussed plans to extend the licenses to horse racing tracks; however, this proposal was never agreed upon, leaving the land-based sports betting to the aforementioned locations. There are four commercial casinos and six tribal casinos that currently have active retail sportsbooks but all of them are located in upstate New York.
Is Online Sports Betting Legal In New York?
New York has a multitude of different ways for residents and visitors to participate in mobile sports betting. In January of 2022, New York launched a regulated mobile sports betting market, with nine licensed sports betting operators, four of which began accepting wagers that day. These sportsbooks are a great choice for residents, but they do suffer from some limitations on what odds they can offer, and the inability for players to bet with cryptocurrencies. Online sportsbooks continue to be the optimal way to bet online in New York as these overseas bookmakers are legal because they are outside of both state and federal jurisdiction.
Facts About Legal Online Sports Betting In New York
New York City residents don't need to travel to New Jersey to bet on sports online.
Nearly all the best online sportsbooks accept NY residents.
Those looking to bet on sports online in New York can use various payment methods including cryptocurrency.
Many New York online sports betting sites include online casino games and online poker.
New York Sports Betting Laws
New Yorkers must be 21 when using a state-licensed or offshore sportsbook. All of the regulations for the state can be found here; however, keep in mind that these only take precedence over the in-state operators. Any action taken overseas will be open to many new wagering types and odds that won't be found at the local books.
Digging a little deeper into New York sports betting laws you'll see that the only places permitted to offer in-person sports betting are the state's four commercial casinos and the state's tribal casinos. If you run into a sportsbook venue that isn't one of these businesses you will know immediately that it is not licensed and can't be trusted. As far as betting on sports online, the law does not mention the specific use of online overseas-based sportsbooks so you will be in the clear when using them. The law won't penalize users of these sites.
When it comes to federal laws, there are two of note to keep an eye on. Neither of these laws targets the gambler, so don't think you are in for some trouble or must curtail the system. These laws, instead, target the businesses associated with gambling and will rather just make certain things difficult for you. The Wire Act prevents sportsbooks from accepting wagers across state lines. This is the reason why you must cross a bridge or tunnel into NJ in order to use their online platform. Also, books cannot accept wagers over the phone, as they must ensure bettors are present in the casino or in the state for online wagering.
The Unlawful Internet Gaming Enforcement Act is the other law of importance. This simply states that banks can not knowingly process payments that are coming to or from gambling sites. Because these sites accept a variety of deposit methods, having to use a bank isn't required and will allow you to get started quite easily. Sometimes you will notice that your credit card gets blocked when attempting to make a deposit. Call up the cashier and they will explain alternative options to getting started, such as using a prepaid international gift card.
How Does The Supreme Court Decision Affect New York Sports Betting Laws?
For nearly a quarter-century the federal government had regulated sports betting in America through PASPA – a law that limited sports betting in any meaningful sense to Nevada. Consequently, most individual states did not have laws specifically addressing the activity, even if they had extensive rules about other allowable forms of gambling. New York was not one of these states, so the repeal of PASPA allowed their referendum to come into effect. Keep in mind that just because PASPA was lifted and New York has laws supporting sports betting, it doesn't mean that the use of these international gambling sites is forbidden.
Which Sports Betting Sites Accept New York Residents?
Due to the fact that no legislation is in place to prevent New York residents from betting with offshore operators, there are plenty of options for gambling enthusiasts. The challenge, though, is to find a sports betting website that offers a safe, reliable platform that allows you to bet on your favorite sporting events. Many of these sites offer everything from hockey and golf to tennis and horse racing. That said, it is important to find a real-money website that is easy for you to navigate and that has the customer service you deserve to optimize your experience.
BetOnline Sportsbook - $1000 Welcome Bonus For New York Residents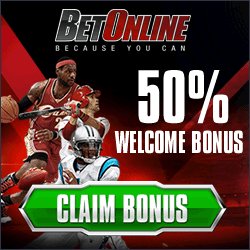 For about two decades, BetOnline has been available to New York residents who wish to wager on sports over the Internet! As an award-winning sportsbook for US gamblers, BetOnline has been offering everything NY bettors could want to put action on, including entertainment and political events. This management team was among the pioneers who built online casino gaming, poker, and sports betting. When it comes to the latter, BetOnline has no competition, and with their new and improved site, the market leader hopes to extend that lead in a big way.
BetOnline has not only the best desktop and mobile sports betting interface in the industry, but they've also got the most streamlined banking and bonus options. Signing up at BetOnline is 100% safe, secure, free, and legal, and New York residents who join now can get a generous 50% Deposit Match Bonus that's worth up to $1000! If you want to enjoy the best gambling and sports betting product on the Internet, join BetOnline today! Keep in mind that if you travel into NJ, you will still be able to use this site as it has removed it's restriction from the state.
Top New York Sports Betting Sites
Rank
Online Sportsbooks
Bonuses Offered
Rating
US Players?
Play Now!

Pro Teams To Bet On In New York
The Yankees vs Red Sox rivalry is one of the most aggressive and historic in the sports world. Now you can wager on these intense duels, as well as the Mets at the Yankees and so on. New York has one of the most colorful sports industries in the nation and you can get in on some real money action legally over the internet. Check out a Knicks or a Liberty game if you like to watch the basketball court heat up. In addition, don't forget that these sites allow you to enter into what is called live betting. This means you can keep betting on your favorite NY team even after the game has started.
For football, you have the powerhouses that are the Giants and the Jets. What could be more fun than watching a historical New York team kick up some dust while putting some cold hard cash on the outcome? These sites have industry-leading odds and lines on all major and minor leagues, teams, and events. Hockey fans will find lines on all the Rangers and Islanders games, and soccer buffs will be able to wager some cash on the beloved Red Bulls as well.
Does New York Allow Pari-Mutuel Betting?
Pari-mutuel betting on thoroughbreds is a big opportunity for New York residents. Many of the tracks in the state are actually considered "racinos," or racetrack casinos with electronic gambling options. This includes slots, video poker, and sometimes table games. Greyhound racing, on the other hand, has fallen out of popular demand lately and there are no actual tracks for it in New York at this time. Some of the most popular horse betting tracks in New York include Yonkers Raceway, Saratoga Race Course, Aqueduct Racetrack, and Belmont Park.
Some of the most popular horse betting tracks in New York include: Yonkers Raceway, Saratoga Race Course, Aqueduct Racetrack + Belmont Park
Other Types Of Gambling Available In New York
New York has plenty of gambling options for in-state residents, especially since a handful of commercial casinos are underway throughout the state. There are also eight tribal (Native American) casinos in the state. These types of casinos are exempt from many state laws because they are located on sovereign land and are allowed to offer any game that is offered at the commercial venues. New York residents can also play the state's lottery, go into one of the dozens of bingo halls, play online casino games, and bet on sports.
How Old Do I Have To Be To Bet Sports Online In New York?
You must be at least 21 years old to bet on sports in New York. You will notice that the offshore gambling sites we recommended on this page will allow players 18 years or older to join their site. However, we advise that you ignore that and refer to the state's gambling law of 21 years old. Don't put yourself at risk of trouble by betting underage and ruin your future gambling experiences.
What Teams Can I Bet On In New York?
New York is stuffed to the brim with popular sports teams especially when discussing teams on the professional level. For the NFL, you have the New York Jets, New York Giants, and Buffalo Bills. For baseball, you can find betting lines on the New York Yankees and New York Mets. When it comes to basketball, look out for the Brooklyn Nets, New York Knicks, and New York Liberty. Hockey fans will find that the Buffalo Sabres, New York Islands, and New York Rangers have the most straightforward action available. Of course, we can't forget about the New York Red Bulls or the New York City FC. This is just the surface of the NY teams that you can bet on, as offshore betting sites will also allow for semi-professional and non-major professional teams to be wagered on, such as the Westchester Knicks or Binghamton Devils.
Best Deposit Methods For New York Residents!
The most popular deposit method for New York residents is definitely Bitcoin and other popular cryptocurrencies like Ethereum and Dash. Even though most of the leading offshore sportsbook sites accept VISA and MasterCard, more and more account holders are starting to see the advantages of using cryptocurrencies for making deposits. Bitcoin and other cryptos have no fees associated with making deposits and they also have some of the highest limits and the quickest turnaround times per each transaction. Using Bitcoin is also probably the safest way to bank at an online gambling site, making it the ideal method for securely bankrolling your betting account. If Bitcoin isn't in your repertoire, consider using an international prepaid VISA gift card. Not only will this add additional security to your personal information but it will remove any fees associated with international purchases from your bank account.
High Roller Sports Betting Sites
The best high roller betting sites have to offer the best high roller banking method, Bitcoin. We mentioned earlier that Bitcoin has the highest limits of any banking method offered at the major online sportsbooks which make it the best banking method for big spenders. Bovada, BetOnline, and Sportsbetting all accept Bitcoin as a form of depositing money and accepting payouts, though, the limits vary at each outlet. No matter which site for sports betting in New York you choose you are sure to be satisfied so you can't go wrong with any of them.